On June 16, 2022, Teachers held a countrywide in more than 30 cities. They protested against their low salaries and systematic discrimination and called for the release of their colleagues, which had been arrested in previous rounds of protests. In Kurdistan, teachers also demanded education in the Kurdish language.
Security forces had arrested some teachers the day before the protest to prevent teachers from gathering Nevertheless, protests were held in thirty cities. Numerous pictures of teachers' gatherings in the cities of Marivan, Sanandaj, Saqez, Bukan, Islamabad Gharb, Sardasht, Harsin, Kermanshah, Kamyaran, Andishmak, Chaharmahal Bakhtiari, Hamedan, Sari, Kashmar, Karaj, Bijar, Mazandaran, Abdanan, Khorramabad, Ardabil, Zanjan, Gilan, Malayer, Aligudarz Babol, Ahvaz, Jolfa, Yazd, Yasuj, Delfan, Isfahan and Marandhave been published in social media.
A statistical look at teacher repression and detention:
1.Saqez / 23 teachers: Awat Razavi, Taher Hamedi, Loghman Allahmoradi, Ahmad Ghaderi, Keyvan Mohammadi, Khaled Sheikhi, Khalid Abdullahi, Mohammad Fattahi, Suleiman Abdi, Aziz Marzi, Salah Sorkhi, Zahed Moradi, Ismail Reyhani, Qader Yathrabi, Amanj Amini Hossein Mohammadi, Taher Qaderzadeh, Fateh Ghaffari, Anwar Farjouzadeh, Salah Hosseini, Marzieh Talaei, Hesam Khakpour, and Hassan Rahimian
2.Divandarreh / 5 Teachers: Omid Shahmohammadi, Osman Rezaei, Hiwa Qureshi, Parviz Ahsani, Kaveh Mohammadzadeh
3.Marivan / 4 Teachers: Tahsin Mostafa, Sivan Soleimani, Aram Mohammadi, Aram Ghaderi
4.Sanandaj / 4 Teachers: Salah Haji Mirzaei, Behzad Ghavami, Ghias Nemati, Mohammad Reza Moradi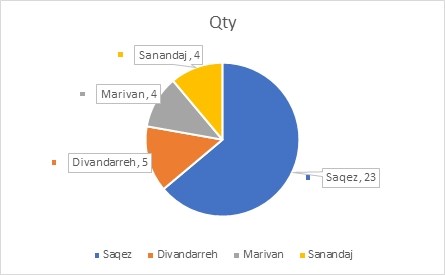 According to Kurdpa statistics, 48 members of the Kurdistan Teachers' Association have been arrested since the beginning of this year, and another 22 have been summoned to the intelligence service, interrogated, pressured, or forced to make written commitments
The number of detainees in Kurdistan is higher than in other regions. Earlier, Kurdpa had presented a report on the latest security scenarios of the Islamic Republic against trade union activists, especially in Kurdistan. A scenario that had linked some teachers to "connections with foreign organizations" in Iran, and The security forces had created the security cases for three activists of the Marivan Teachers 'Union, Eskandar Lotfi, Massoud Nikkhah, and Shaban Mohammadi.
According to the latest reports, Massoud Nikkhah, Iskander Lotfi, and Shaban Mohammadi were transferred to the security ward of Evin Prison and are denied "the right to visit family" and "right to access a lawyer."
Kurdpa strongly condemns this security scenario against teachers 'union activists, their detention, and the suppression of the teachers' civil movement in Kurdistan and calls on all human rights institutions and organizations to increase the cost of this repression designed for the Islamic Republic and condemn it.
Prepared by Hiwa Tase