The direct firing of security forces is the leading cause of Kolbars's death. But the choice of dangerous roads to cross the border and get caught in the snow and cold is another factor that has killed many Kolbars.
A few days ago, the body of Asad Sidani-Fard was found by local residents after 158 days of disappearing in snow and blizzard. The bodies of Behlool Seydani-Fard and Barzani Mihani, who had gone to Culberi in threes, were found after 135 and 114 days, respectively.
In the last 11 years, 68 colts have died in the snow and cold, and 22 people have suffered frostbite and injuries. Five of these Kolbars were under 18 years old. In 16 cases, the Kolbars have died in groups, and three Colbrans, who were frostbitten and injured, suffered amputations.
Statistics of casualties by border points: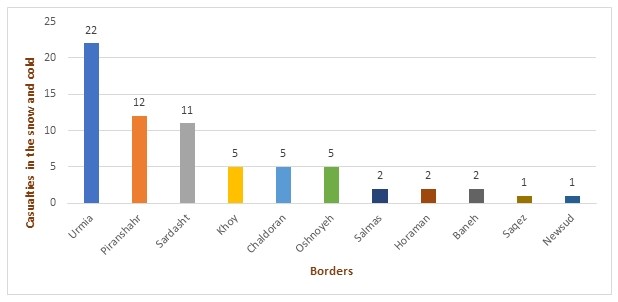 The names of the Kolbars who died by years:
The year 1390: 4 cases of death
Hiwa Naqshbandi, Rahim Hamidi, from Vashmzin village, Sardasht province
Ismail Ahmadi and his brother Rahim Ahmadi, from Shalmash village of Sardasht province
The year 1391: 2 cases of death
Mustafa Rimas, son of Mullah Morad, from Dalavan village of Piranshahr
Ahmad, 48-year-old Kolbar, son of Khezr and a resident of Piranshahr
The year 1392: 11 cases of death
Farhang Fattahi, 17 years old, and Yaser Ansarinejad, 22 years old, resident of Khaneghah village in Targever region of Urmia
Parviz Dehghan and Ziad Dargahi, from the village of Piranjouk in the Soma district of Bradost
Shoresh Tamashakhaneh, Taher Koche baghan, and another Kolbar
Fakhro Shinodkan and his brother Shaker sons of Ahmad, from Gassian village of Urmia
Adam Gardipour, son of Mustafa, from Sheikh Zard village of Urmia
Khabat Shinozad, son of Ismail, from Dizaj village of Urmia
The year 1392: 2 cases of death
Ebrahim Mohammadzadeh, son of Ahmad, 40 years old, from Shalim Jaran village, Piranshahr
Ebrahim Paymard, son of Rahman, 24 years old and from Khoranj village in Piranshah
The year 1394: 2 cases of death
Kamran Poursmoyan and Mamadghoochi Kotalan, from Sheiban village in Urmia
The year 1395: 7 cases of death
Diar Mohammadnejad, 18 years old and son of Hamzeh, from Sardasht
Shirzad Abdollahi is 27 years old and the son of Omar from Sardasht
Hiwa Ibrahimiya (Hiwa Rash), 22 years old, the son of Abdullah from Baneh
Mohammad Hamzehzadeh, 22, from Mahabad
Omid Khezrian, 19 years old, from Oshnoyeh
Rizgar Sakani ‌Far from Pasan village of Urmia
Karwan Rashkeh, son of Abu Bakr and 17 years old, from the village of "Mirabad" in Sardasht
The year 1396: 10 cases of death
Behrouz Issazadeh, Qutbuddin Ahmadi, Hassan Saeedi, and Mostafa Hafez from the village of Givaran and Tarsabad in the Qotur region
Hiwa Mostafavi, 32 years old, from the village of "Poushabad" in Oshnoyeh
Idris Bayazidi, 25 years old, son of Qader, from Sangan village, Oshnoyeh
Khedr Tabnak, from the village of Singan in Oshnoyeh
Soleiman Khezri, 37 years old, son of Hussein, from the village of "Kani Mam Seyedeh" in Piranshahr
Jadih and Sabri Valinejad, from Avk village of Targor region of Urmia
Khedr Abdollahi, 60 years old, from Piranshahr
The year 1397: 11 cases of death
Muzaffar Hosseini, 35 years old, son of Ali, from Gassian village of Margaver region of Urmia
Zanyar Azizzadeh, son of Soleiman, from Piranshahr
Javad Golabi, 35 years old, from Meloneh village in Urmia
Salar Tanhaei, 32 years old, from Javanrood city
Yousef (Zanyar) Mohammadi Asl, from Piranshahr
Ayub Amini, son of Mohammad, from the village of Dashwan in Salmas
Amir Taheri, 20 years old, from Gargareh village in Chaldoran
Matin Badakhshan, a young Kolbar from Piranshahr
Taher Adibi, 21 years old, and Farhad Naghshi, 31 years old, from Issa Golik village in Chaldoran
Shaker Miyavghi (Pourkhaled), from Urmia
The year 1398: 7 cases of death
Hossein Shamoozadeh, from Kani Ashkot village, Piranshahr
Bahman (Yousef) Jasour Nelous, 22 years old, son of Baghi, from Shinabad, Piranshahr
Sirwan Peshang, from the village of Mosalan in Piranshahr
Farhad Khosravi, 14 years old, and his brother Azad Khosravi, 17 years old, from Ney village, Marivan
Osman Fotuhi, from Tazehabad village, Saqqez
Azad Omari, 22 years old, from Ravian village, Qotur
The year 1399: 7 cases of death
Matin Aslani, son of Osman; Yavar Aslani, son of Loghman, Beilen Ahmadi, son of Sadegh, Molaei Khodaei, son of Hatem and Furat Khodaei, son of Khorshid
Shahram Ghaderi , 25 years old from Bukan
Ebrahim Pourmohammad, son of Reza from the village of "Qarahjohoran" in Chaldoran
The year 1400: 5 cases of death
Fahim Mamadi Ghezel Kand, 35, from Salmas
Behlool Seydanifard, son of Karim, Barzan Mahini, son of Shaukat, and Asad Seydanifard, son of Rahim, from the village of "Bavan" in Urmia
Mohammad Sur Wardeh, a resident of the village of "Wardeh" in Rabat, Sardasht