Malakshahi\'s Nowruz Celebration was canceled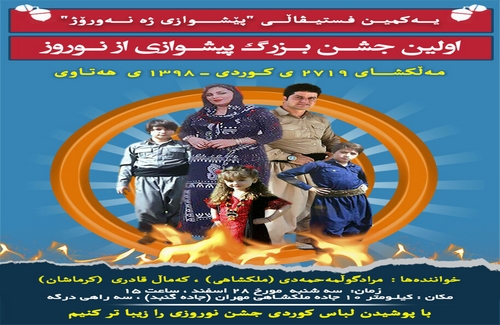 Kurdpa Agency: The pressure of intelligence forces resulted in cancellation of the Nowruz celebrations in the city Malekhshahi, Ilam.

According to a report from the Kurdistan Press Agency, the Melekhashi celebration was canceled due to pressure from the Ettelaat\'s Bureau

According to an informed source, intelligence and security forces raided the place of the Nowruz celebration in Malekhshahi and seized the equipment of the ceremony.

This source said that the Malekhshahi Ettelaat Bureau threatened the cultural activists of the city by telephone and told them that they would face judicial proceedings if they were celebrating Nowruz.

This source said that the prosecutor\'s office had ordered the arrest of a citizen, \"Nabi Karimi,\" and he is now being prosecuted.

This source also added that Malakshahi Ettelaat Bureau threatened several cultural activists.

In this regard, the Revolutionary Guard forces prevented the celebration of Nowruz in the village of Aliabad, Oshnavieh.

A resident of the village told the Kurdpa\'s reporter in Oshnavieh: The Revolutionary Guard forces seized the wood and firewood collected for Nowruz fire and then burned at a location near the village of Aliabad.

Cooperation Center of Iranian Kurdistan\'s Political Parties has launched a campaign called \"Nowruz, Dance of freedom\", which in response to the campaign, intelligence agencies created a climate of terror and arrest of Kurdish activists.