Iran lawmakers question Ahmadinejad over petrodollars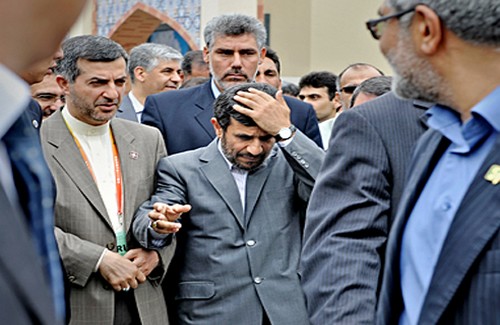 KURDPA - Iranian lawnmakers accused Mahmoud Ahmadinejad\'s government on Monday of failing to deposit billions of petrodollars with the Treasury, indicating the president was set for a rough ride from a newly elected parliament dominated by rival hardliners.

One day after election results showed Ahmadinejad\'s faction lost many seats in parliament, the assembly\'s budget committee voted to refer the case of the missing oil receipts to the judiciary, the semi-official Mehr news agency reported.

\"Based on our estimates, the value of exported crude and condensates by the end of summer (March 21-Sept 22) amounted to $53.2 billion, from which $6.4 billion should have been deposited with country\'s Treasury funds,\" Mehr quoted a budget committee spokesman, Mehdi Fathias, as saying.

\"However, the Central Bank has only deposited $2.4 billion with the treasury,\" Fathi said.

In a budget committee meeting attended by members of the outgoing parliament, 113 of the 195 present voted in favour of a report criticising the president and referring the case to the judiciary, two voted against and 22 abstained, Mehr said.

Ali Motahari, one of Ahmadinejad\'s most vocal critics in parliament, said lawmakers might seek to impeach the president if he failed to satisfy their concerns about a variety of issues.

\"If the president fails to give convincing answers to the lawmakers\' questions ... it is possible that they launch impeachment proceedings against him,\" Motahari told Mardomsalari daily.

Hostile Parliament

Friday\'s election further weakened Ahmadinejad\'s influence in an already hostile parliament and increased that of rival hardliners who consider he has moved too far from Supreme Leader Ayatollah Ali Khamenei.

Discord between the president and the leader surfaced in April after Khamenei reinstated Intelligence Minister Heidar Moslehi whom the president had sacked.

Since then, parliament increased its attacks on Ahmadinejad, threatening impeachment and blocking his choice of ministers.

Ahmadinejad still faces a summons, issued by parliament before the elections, to an unprecedented hearing to answer questions focusing on economic and foreign policy.

He faces questions about a $2.6 billion bank fraud and steadily growing inflation.