Iran claims high turnout in elections – but there's no way to verify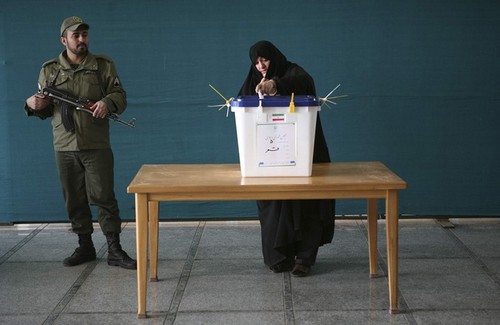 Based on a report by The Guardian Website, in absence of independent observers and opinion polls, it is impossible to say whether the official figures are correct. The opposition had largely boycotted the vote and was quick to find contradictory signs. They pointed to a gaffe made on live TV by Seyed Solat Mortazavi, the head of election centre at the interior ministry.

On state television, Mortazavi quoted the interior minister, Mostafa Mohammad-Najjar, as saying that the turnout was almost 34%, but instantly corrected to 64%.

The other blunder came from the Mehr news agency, which had reported 373,000 people eligible for voting in the province of Ilam. The same agency reported 380,000 had voted there. Mehr later amended the figure on its website to 280,000.

Baztab, an Iranian news website, also reported that the total number of people eligible to vote announced by the regime was 2.5 million less than those eligible in the 2009 presidential vote.

On Sunday the officials were still counting the votes. Reports say the results for 190 out of 290 seats in the parliament have now been finalised. Of the remaining seats, 30 have gone to the second round and 70 seats including those in Tehran are still being counted.

Although the final results have not yet been announced, it\'s clear that Mahmoud Ahmadinejad will have a hard time till the end of his term in 2013.

The opposition were banned from contesting the election. Those competing for votes were factions from within the regime, conservatives supporting and opposing Ahmadinejad.

The United Fundamentalists Front, a group of conservatives critical of Ahmadinejad, looks likely to win three-quarters of all seats and take control of parliament. The rest is divided between the Stability of Islamic Revolution Front, the other groups of conservatives less critical of the president, and few staunch supporters of Ahmadinejad and some independents.

The president\'s sister, Parvin Ahmadinejad, was among those defeated by their conservative rivals.

Ahmadinejad who was summoned to the parliament in February to answers questions over the government\'s handling of the economy and his own personal judgments, must appear before MPs by Friday. Many MPs who were behind the motion to impeach the president last year, including Ali Motahari, are likely to retain their seats.

The results are unlikely to change Iran\'s foreign policy or nuclear programme as both are controlled by the supreme leader, Ayatollah Ali Khamenei.

Curiously, Fars, the news agency affiliated to the elite revolutionary guards, and generally hostile to women with improper hijab, published pictures of women in loose hijab participating in elections.